Bigg Boss 16 8th October 2022 Full Episode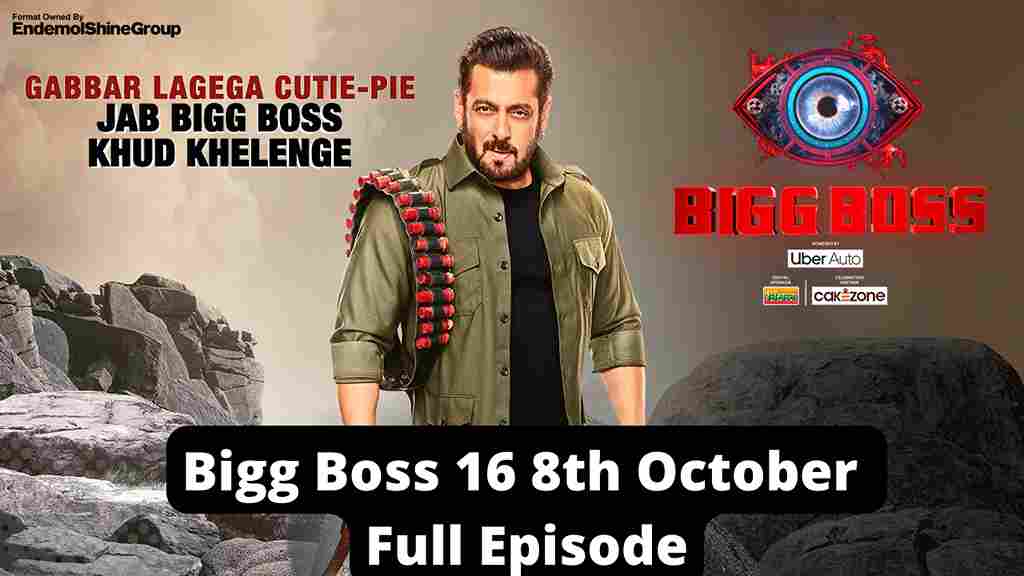 In Bigg Boss 16 8th October 2022 Full Episode Salman Khan helds Hit and flop task between contestants. Gautam vig calls Shiv Thakre flop, Sumbul calls Ankit gupta flop. In Task Ankit gupta became the most flop contestant of Bigg Boss 16 this week. Contestants dance together as Rashmika Mandana and Neena gupta came in Bigg Boss 16 8th October Episode.
All male contestants also did pushpa raj dialogue and signature move. Salman Khan declared that there will be no eviction this weekend, but it might happen in next mid-week.
Salman Khan also discussd the matter of Manya Singh vs Sreejita De fight. He scolded Manya Singh a bit for overconfident statements.
Rashmika Mandana and Neena Gupta in Bigg Boss 16 8th October Episode
So, Rashmika Mandhana and Neena Gupta came in today's Episode of Bigg Boss 16 for the promotion of their movie 'Goodbye'. They came and met Salman Khan, played a game and danced together.
The game was lip reading, First Salman will say a sentence and both actress will try to guess it one by one. After that Rashmika and Neen will say lines, Salman will have to guess the sentence. The catch is that they have to use silent headphones, so they can't hear the voice. They can just read the lips.
Bigg Boss 16 Contestants dancing and doing Pushpa Signature Style
After Rashmika and Neena met Salman and had completed the games. They met Bigg Boss 16 Contestants through Video Conference. All of them danced on the balam saame song of Pushpa movie.
After that, All the male contestants of Bigg Boss 16 did signature move of Pushpa Raj in Bigg Boss 16 8th October 2022 Episode.
Salman Khan to Manya and Sreejita on their fight in Bigg Boss 16 7th October Full Episode
Salman Khan discussed the matter with Manya and Sreejita. He scolded both of them a bit for saying derogatory statements towards each other. He especially took class of Manya because she was being overconfident several times in Bigg Boss 16 house. She had said 'Manya is angaar baki sab bhangaar' in Sajid standup comedy show. Later, She demeaned the TV Industry actors in fight against Sreejita. She had said to Sreejita,"I was the ambassador of this country, and you are just a TV Actress of long gone show".
Salman Khan repeated these statements to everyone in the Bigg Boss 16 house and made her understand what is wrong and right.
Flop and Hit Contestants Task in Bigg Boss 16 7th October 2022 Full Episode
So, Hit and Flop Contestants task was played today in Bigg Boss 16 7th October Episode. That task was simple, Each Contestant will choose a flop contestant and a Hit contestant according to them. They will put foam on the face of flop contestant and put garland around the neck of hit contestant in Bigg Boss 16.
Gautam Vig chooses Shiv Thakre as flop contestant and Nimrat Kaur as Hit contestant.
Sumbul Touqeer, Sajid and many others Chosen Ankit Gupta as flop contestant. They put foam on his face and gardlands on others.
Who is Evicted today in Bigg Boss 16 ?
Salman Khan declared that the Eviction is cancelled this week. So, Nobody will be evicted from Bigg Boss 16 today. But, Ther are chances that Wild card entries will come and mid-week eviction will happen before wild card entry comes in Bigg Boss 16 house.