In Bigg Boss 16 27th December 2022 Full Episode Contestants are having fun with maahim the dog in the house.
Some contestants are also trying to get footage from maahim, especially the ones like Tina. Tina was complaining and generalising about other contestants planning against her. She also self praised herself.
Abdu is scared with Maahim but Soundarya, Shiv and some others are playing well with the sweet dog.
Archana started poking Priyanka in the morning. Priyanka said she cant live without fighting with me. Sreejita also started poking Archana and said Archana's tag of Kitchen queen is stolen by me. So, That is why Archana is getting jealous.
Sreejita and Archana are fighting with each other.
Bigg Boss asked Shalin to bring Maahim in the store room. Bigg Boss asked contetsants to gather in the living area.
Bigg Boss asked Archana to forget that she is important and it is her misconception.
So, Bigg Boss asked contestants to choose 3 contenders out of five remaining non nominated contestants. These 3 will fight for captaincy.
Housemates decided Shiv, Abdu and Stan to become captaincy contenders. All were against Archana to be the new captain of the house.
Bigg Boss announced that new captain will be chosen by a democratic captain task in three rounds. Fans of Bigg Boss will come into the activity area and they will vote for new captain.
First round – contenders will have to tell why they are best and what are their agenda's.
Second round – why the opponent are weak.
Third round – To gather support from one rival.
First Abdu came and said, I am already fair,he sang chhota bhaaijaan song
Next, Shiv Thakre came and greeted fans with Ram ram and gave his introduction. He claimed that he has came from among you people.
MC Stan said I want winning ornamental garland.
Bigg Boss asked Archana who seems to be the winner. Archana took Stan and Abdu's name and said all contenders are from one family. It does not matter who ever wins the election of captaincy.
Shalin Bhanot gave a dance performance for the fans as they were demanding it.
Archana is making tea for sajid, sumbul and herself. Vikas came and said who has put milk on the stove. Archana was cooking and she got angry when Vikas removed that utensil from the stove.
Priyanak came in between their fight. The hot oil and water got spilled and it might have harmed anyone.
Archana is fighting with Vikas, Vikas also giving back to her. She is saying I removed the utensil and water got spilled and went into the hot oil. both done things which were wrong.
Second ROund- Fans arrive again, Abdu, Shiv, MC Stan appeal for each other to vote for their friends. It was a very family love type moment when they were asking votes not for themselves but for others. This was round about to tell why the opponents are weak, but they said they won't tell bad things about their friends.
MC stan got big support from audience. Bigg Boss asked Tina who seems to win the round. Tina said by seeing the support MC Stan is getting. I think MC stan wil win.
Shiv and Priyanka danced together. Sajid said I can see new alliance is forming between shiv and priyanka.
Third Round – Sajid came to gather support for Abdu, He made funny appeal to all. Sajid also came to appeal for Shiv Thakre.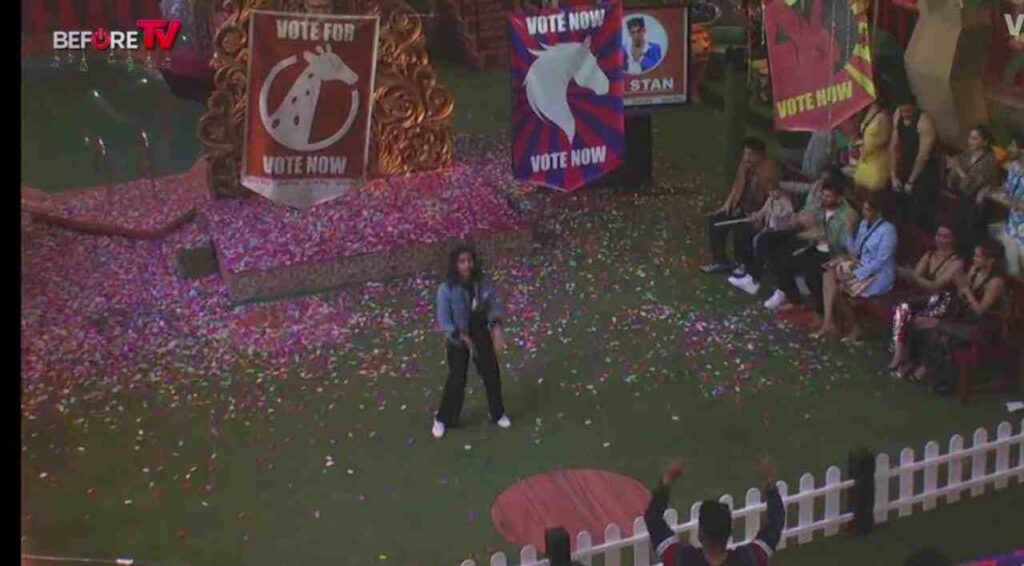 Sumbul came to support MC stan and made appeal for MC STAN to be elected as captain. She danced very well.
Shiv Thakre becomes the new captain of the Bigg Boss 16 house.