Bigg Boss 16 16th October 2022 Full Episode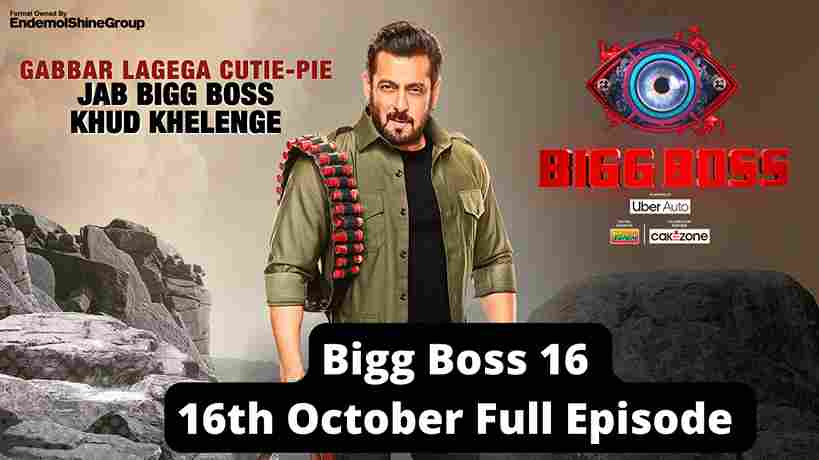 Shekhar Suman hosts Bigg Boss 16 16th October 2022 Full Episode and plays some tasks, entertains, roasts, teases the contestants. Shekhar hosted an Big Bulletin interview session task with Nimrat and Shiv Thakre in which audience askin question videos were shown and both will have to give explanations. Abdu was also given a task in which he rated contestants out of 5 stars. Priyanka vs Nimrat argument happened due to groupism allegation made by Bigg Boss fan through video message.
Shekhar Suman also teases Tina funnily regarding her love relationship with Shalin. Audiences ask question with Contestants
Live Bigg Boss 16 16th October 2022 Full Episode
9:30pm IST – Bigg Boss 16 Live
Morning starts with contestants singing Bigg Boss 16 anthem once again.
Archana is complaining to gautam about Soundarya. Archana is saying you are not that type of person who plays according to a girl. The matter is about kitchen duty. Soundarya had said Archana that she will decide who will enter inside Kitchen as she is closer with captain gautam. She can have that power.
Gautam reshuffles the housemates duty.
Abdu is giving massage to Shiv Thakre. Abdu is singing papa kehte hai beta bada naam karega song.
Nimrat, Gautam and Soundarya talking to Sumbul about her and shalin.
They all are saying to sumbul that they have always asked Sumbul to talk one on one with shalin. We were always with you but we got the blame.
Shalin is teeling Abdu a trick that if your eyelashes got broke or plucked off then you can place it on your closed fist upside down and make a wish from god. It will become true.
Shalin is talking to Sumbul about whatever has happened between them in the past. Shalin is asking sumbul that she was staring shalin when he was doing something.
Sumbul is saying everyone is talking about her in the house, without her knowledge.
Gautam is scolding Tina for making the house untidy.
9:45pm IST – Bigg Boss 16 16th October 2022 Full Episode
Abdu and Sajid are washing dishes. the duties have been reshuffled. Gautam is checking on Abdu if he has any difficulty in doing the duty by standing on chair. Sajid and Abdu are washing dishes.
Sumbul is talking with Shalin and Gautam separately with each.
gautam is saying that it is your fault. Shalin is saying that it is appearing very bad on the TV. Sumbul is saying do people have no mind that if a girl has made clear that It is not true. Then why are the still making issue of this. Shalin is saying a girl with half of my age, I can not do or make you understand what is happening.
Nimrat is telling shalin that you pinted fingered at us in ager and blamed all of us thet we are resposnsible ofr that happened.
Shalin is saying that 1st oerson who told us about Sumbul was gautam, 2nd was you and third was Tina.
Shalin asked Nimrat were you not the one who said, Shalin I do not wethter you can see it or not. But we all can see(sumbul stalking or falling for shalin).
gautam and shalin are fighting with each other about who said what. Gautam said it hurt me when shalin took my name for " he is here to win, no morals"thing. He asked shalin do not play me undercurrent.
Shalin is saying I was getting blamed. They were bashing me. But, you guys did not support me.
Shalin is saying whenever I console Sumbul. She(SUMBUL) understood for two hours. And, Then she again come backs to me to talk about that again. I do not know what to do now. Nimrat is asking Shalin to do not play a victim card. You are being arrogant.
Nimrats is saying, Shalin you are a split personality.
10:00pm IST – Bigg Boss 16 16th October Episode
Abdu is playing as a doctor and checking on sajid. He says I am doctor you stay still. Abdu is having fun.
Sumbul talking to Sajid.
She is saying ntohing is between her and shalin. Sajid asked if there is anything in your heart for shalin. Sumbul denied.

10:15pm IST – 16th October 2022 Full Episode
Archana is asking Sajid who will be there in the house between Manya and Archana. Sajid says Mnaya will remain , she does housechores. Archana asks him if has came here for doing household chores. Tina tried to took stand for Manya. Manya was laughing. Tina got angry on Manya that Tina is taking stand for her. But, she is laughing.
After that Manya got to Archana and started fighting with her. Manya said Soundarya was right about you.
Abdu is feeling sad, as he is remembering his family. Sajid is consoling him. He says there is good and bad in all the contestants here. Sajid says here we will both take care of each other.
Manya is making irrelevant and boring jokes.
All contestants gathered in the living area and Shekhar Suman is here in the show.
10:10pm IST Bigg Boss 16 16th Oct Episode
Shekhar Suman is reciting shers to the contestants. He is talking about what happened in this week through his poetry.
He also talked about Sundarya and Sreejita calling other illiterate. Shekhar is talking about Tina Shalin relationship. Shalin is behind all girls. All girls like Abdu.
He is saying I spent too much time watching you guys. So, I can understand all of your relations with each other. And, Whenever I reach at a conclusion of relations. You guys suddenly change your relations.

10:30pm IST – 16th October 2022 Full Episode
Abdu and Sajid are giving star rating out of 5 about everyone's body.
1 star rating to Manya for playing boring jokes. all of them clapped for Shekhar for providing so much entertainment.
Sumbul came as a star, but now she has become a Meena Kumari. She niether can keep her feelings to herself nor tell her feelings.
Bigg Boss 16 16th October 2022 Full Episode
Shekhar teases Tina and Shalin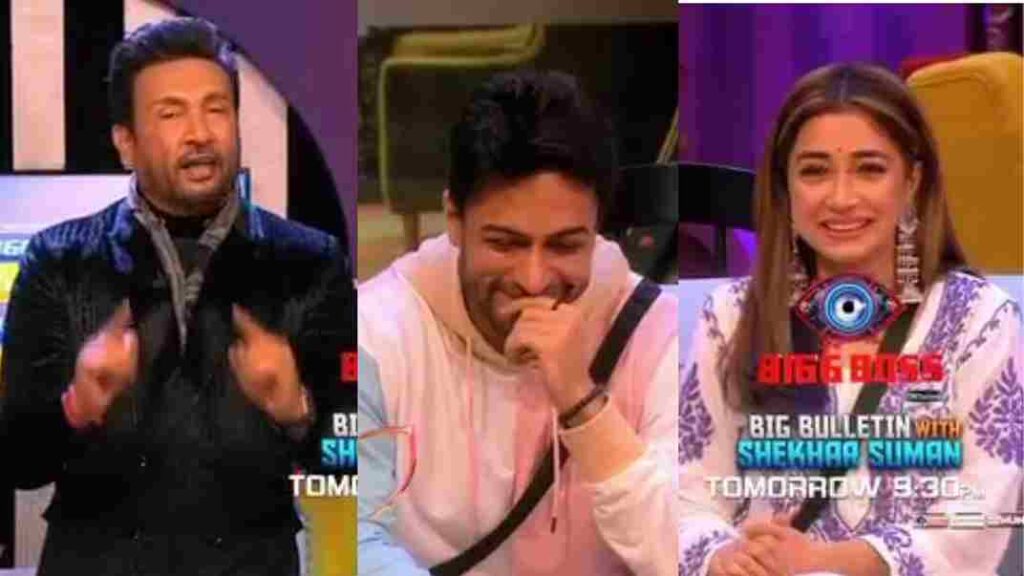 Shekhar Suman started teasing Shalin and Tina about their love relationship. He asked Tina to repeat whatever he(Shekhar) says after.
Shekhar said," I am Tina datta. I am single but ready to mingle."
Tina repeats this," I am Tina Datta and I am single but ready to mingle."
Shekhar says" My nature is not very shalin."
Tina repeats,"My nature is not Shalin"
Shekhar says,"If I have never replied, I Love you with I love You. Then, do not take it as a NO."
Shekhar Suman interviews Shiv Thakre and Nimrat in Big Bullet
Bigg Boss 16 16th October 2022 Full Episode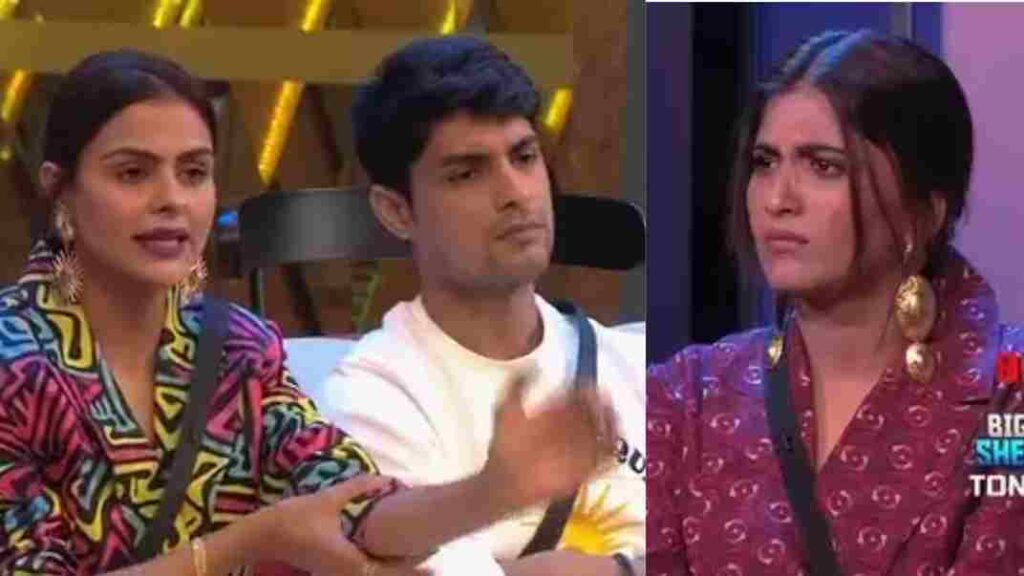 Big Bulletin task – Shekhar Suman interviews Nimrat Kaur Ahluwalia and Shiv Thakre. In this session, videos of Audiences askin questions and making allegations on both of them were shown. Both Shiv and Nimrat had to give explanations. Also, Other housemates will comment their views about them.
Who is Your favourite Contestant in Bigg Boss 16
Audience accuses Nimrat of groupism in Bigg Boss 16 Big Bulletin Task
Akaansha kapoor from Delhi asked her question to Nimrat Kaur Ahluwalia. She asked," Nimrat, you say you are playing an individual game. But, when the task comes, you need players to form groups."
Nimrat said that she and other from her group are being accused all the time to have a group. She tried to deny the groupism allegation.
Shiv sitting beside her said, "If you have a group which is clear. So, accept it."
Priyanka said, "Everyone can see that there is a group, but the people in the group are denying all the time about it."
Nimrat replied," I am tired from replying to this all the time. Now, I would not give any justifications."
Priyanka said, "Audience can see if there is a group or not."