In today's Bigg Boss 17 13th November 2023 Full Episode Contestants Rooms were Changed, Ankita vs Vicky and Anurag against Arun big Fight happened between them. Anurag got nominated for pushing arun and indulging in physical fight.
Ankita vs Vicky fight
Bigg Boss changed the rooms according to the contestants' performance till now in the game. Vicky got Dimag room and Ankita remained in heart room. Vicky was very happy and Ankita got separated from him. Thats why she was angry with him.
Later, Vicky was also angry with Ankita due to lobbying behind Ankita and he was on salman khan's target this weekend.
Anurag got punishment for physically pushing Arun
Anurag Dobhal vs Arun Mashetty fight also happened in which Anurag Dobhal lost his control and pushed Arun Mashetty several times.
Bigg Boss banned Kitchen and Nominated Anurag
Argument started between Anurag and Arun. Arun instigated Anurag and he pushed Arun Mashetty.
Later, Anurag broke Kitchen's utensils and Bigg Boss got angry on this and punished all housemates by banning kitchen.
Also, Anurag was nominated for this week's nomination right then.
Ankita vs Vicky fight after Bigg Boss changed Rooms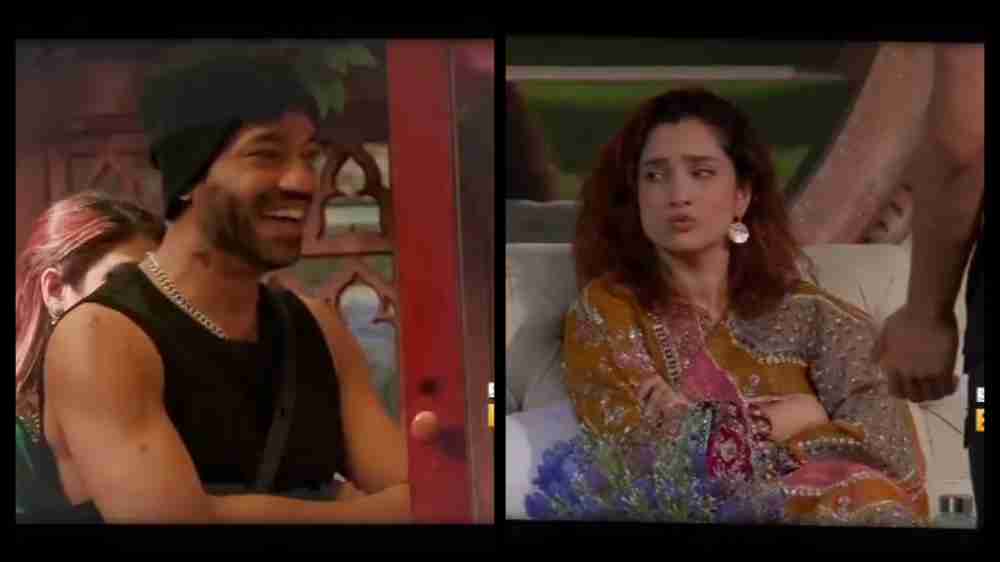 Bigg Boss announced your quarterly results are out now and according to the contestants' performance, Bigg Boss has shuffled the room of contestants.
Dil Room – Isha, Samarth, Jigna, Rinku, Ankita, Munawar.
Dimag room – Anurag, Arun, Vicky, Khaanzadi, Tehelka, Sana Raees Khan
Dum Room – Mannara, Abhishek, Aishwarya, Neil and Naved.
Bigg Boss sparked Ankita against Vicky
Ankita was sad because Vicky had moved to new house Dimag and Ankita was left behind alone in Dil room. Bigg Boss announced and said Ankita,"You are worrying here but just look at Vicky he is very happy in his new room."
Ankita got angry on Vicky because he does not care about Ankita and tried not to talk with Vicky. She said now we will play lonely you just play and go away.