Bigg Boss 16 3rd October 2022 Full Episode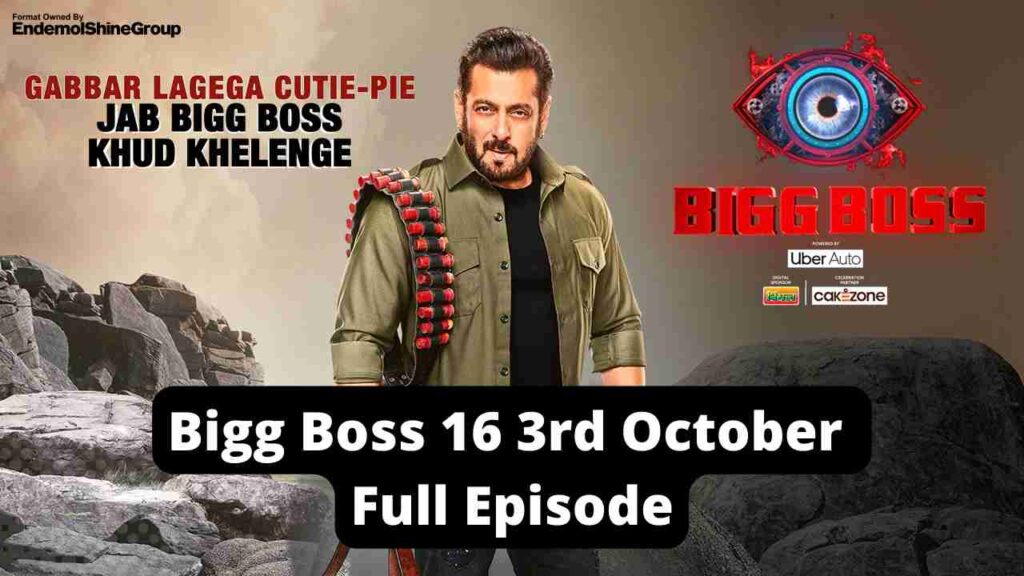 Bigg Boss 16 3rd October 2022 Full Episode starts Live-
Morning starts with hooter and contestants immediately gathered in the garden area and recited Bigg Boss 16 National anthem.
After that in Kitchen, Archana was making food for herself because no one likes her food. Here an argument started between Nimrat and Archana, they were fighting with each other.
Shiv came and sent away Archana from that argument, It irked Nimrat that this is not a way. Now, Shiv and Archana started fighting with each other. Shiv's concern was that in kitchen, that argument will not end. So you both should go and talk in private.
Sajid Khan came and consoled Nimrat and then Shiv also came and explained his point to bring Archana away from Nimrat- Archana's conversation. He just explained that his intention was to end the quarrel very fast.
Abdu's swayamvar in Bigg Boss 16 3rd October 2022 Full Episode
Shiv eas asking Abdu which type of girl he would like for his marriage. Abdu was just blushing all the time. After that, Shiv asked Bigg Boss to organise a Swayamvar for Abdu.
Bigg Boss 16 3rd October 2022 Full Episode Ankit Priyanka Relationship
Nimrat, Shalin and others were asking Ankit about his relationship with Priyanka. He said that it is very celar. We are just friends and we never think about it. She is interested in the future but I am not. Others conveyed him that we see that Priyanka has some soft corner for you.
Bigg Boss 16 3rd October 2022 Full Episode Tina proposes Abdu
Tina dutta asked Abdu if she can be his girlfriend. Abdu was blushing and tried to not reply. Shiv also asked Abdu if he likes Archana or Soundarya. Abdu said Archana never. Tina was still teasing him. She was asking him to be his boyfriend.
Tina said you broke my heart. Abdu said you are cute and now Tina started blushing and laughing.
Nimrat fights with Shiv thakre
An argument started for nothing between Shiv and Nimrat. TV industry celebs are or nimrat side mostly. Shiv, Archana Priyanka are aligning in a group. Sajid is being mediator in the house.
Nominations in the house
Bigg Boss asked contestants to nominate two contestants each and Nimrat will be safe from nominations.
A fire artist will come in the house contestants will give names and their reason to nominate particular contestants.
Nimrat – Archana
Shalin – Sajid and Abdu
Sreejita – Gauri Nagori and Tina Dutta
Gautam – Gauri and Stan
Tina – Sajid and Stan
Manya – Gauri and Stan
Ankit – Gauri and Stan
Archana – Stan and Sajid
Sajid – Tina and Shalin
Shiv – Gautam and Sajid
Priyanka – Stan and Manya
Sumbul – Manya and Sajid
Stan – Gautam and Priyanka
Soundarya – Abdu and Ankit
Gauri – Gautam and Ankit
Abdu – Shalin and Saundarya
Sajid and Shalin discussing why shalin nominated Sajid. Sajid was not happy with his choice and explanation.
Bigg Boss punished Contestants
Bigg Boss Punished Manya, Tina and Soundarya fr saying sorry for nominating contestants.
All three will do the entire work of the house. Captain Nimrat will make sure that they do their duty.

Bigg Boss mentoring contestants
Bigg Boss mentoring Shalin, Bigg Boss asked Shalin if he had opinions or not. After that, Bigg Boss questioned why did you gave explaination to Sajid for nominating him. Bigg Boss said do not sugarcoat your words in the house.