Bigg Boss 16 1st October 2022 Full Episode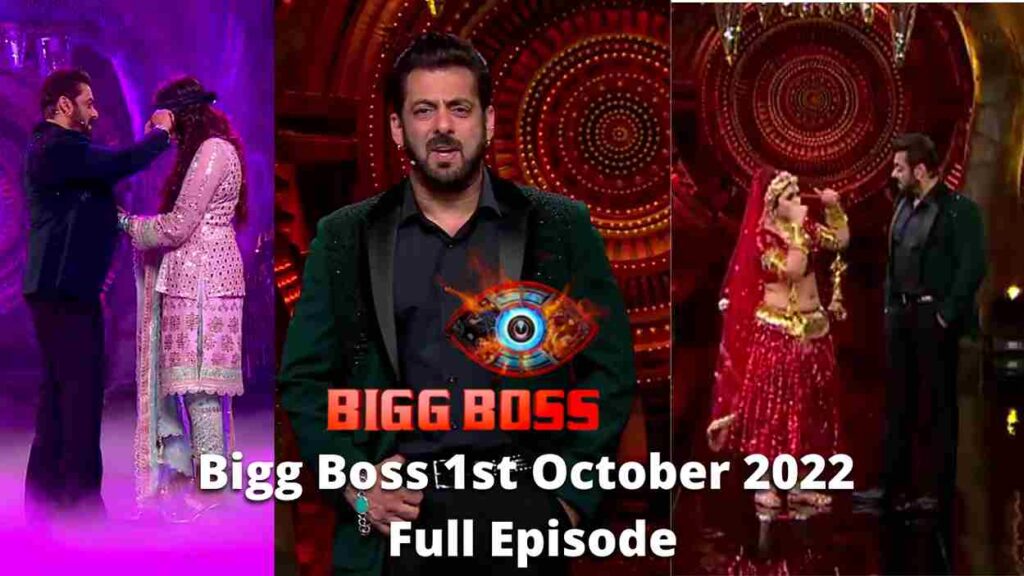 In Bigg Boss 16 1st October 2022 Full Episode Salman Khan introduces all contestants Sumbul Toqueer, Tina Dutta, MC Stan, Adbu Rozik, Gori Nagori, Nimrat Kaur Ahluwalia, couples – Ankit Gupta and Priyanka Chahar choudhary, Sreejita De and others. Salman Khan first came on stage with a blockbuster dance performance. After that, he interacted with the audience and told us about the season that it will be much different than the previous seasons. Bigg Boss 16 house was also shown to the Bigg Boss 16 fans.
After that, Salman Khan introduced the first contestant of Bigg Boss 16 on stage. As usual The first Contestant of Bigg Boss entered on stage with a dance performance.
Bigg Boss 16 1st October 2022 Full Episode – Contestants Entering on stage
So, These are the contestants who entered on the stage in Bigg Boss 16 1st October 2022 Full Episode. Most of these Contestants gave a dance performance, except some. The Contestants are
Shalin Bhanot
Gautam Vig
Nimrit Kaur Ahluwalia
Sumbul Touqeer Khan
Ankit Gupta
Priyanka Chahar Choudhary
Gori Nagori
Manya Singh
Abdu Rozik
Soundarya Sharma
Shiv Thakre
Tina Dutta
Sreejita De
MC Stan
Archana Gautam
Nimrat Kaur Ahluwalia in Bigg Boss 16 1st October 2022 Full Episode
Mehar of Chhoti Sardarni aka Nimrat Kaur Ahluwalia first gave her dance performance on Bigg Boss 1666 stage. She was the first contestant in the Bigg Boss 16 house.
After that, Salman welcomed Nimrat by saying she fought and became the sardarni of TV Industry, now she is coming to become the sardarni of indian people's heart.
After that, Nimrat Kaur was brought blindfolded to salman Khan. Nimrat wanted Salman to open her blindfold. So, She can start her journey of the biggest Reality Show in India by seeing Salman Khan's face first.
Nimrat was the first contestant when she entered inside the Bigg Boss 16 house. Bigg Boss started talking to Nimrat and showed her the Bigg Boss 16 house icluding living area, kitchen, etc. She said I can't cook, Bigg Boss said you might atleast know how to use cooking items.
Bigg Boss also showed her the Captains bedroom which had Jacquuzee and every other luxury item.
Bigg Boss gave her a chance to become the first captain and assigned her a duty.
She had to a lot a bedroom and a house duty to every other contestants that enters after her.
Abdu Rozik was the second contestant who entered inside the house
Abdu Rozik in Bigg Boss 16 1st October 2022 Full Episode
Abdu Rozik is a foreigner contestant introduced by Salman Khan in Bigg Boss 16 1st October 2022 Episode. Abdu Rozik came on stage by singing a song 'Papa kehte hai ke beta bada naam karega'. As he came, Salman Khan also sang the song with him. After that, Salman Khan sat and hugged Abdu Rozik.
Abu Rozik likes Captaincy
Salman asked Abdu what he will do in the house. Abdu answered that he likes captaincy in the house. Because, Captain tell everyone to do bathroom, you do cleaning that type of thing. And Captain has to do nothing.
Salman asked Abdu what things he likes to do. Abdu rozik acted like a boxer and showed that he likes boxing. He also told Salman that he likes cooking 'Berger'.
A Berger was brought to the stage and Abdu lovingly ate some of it. Abdu sait the berger is very tasty as he tries to speak hindi. Abdu is learning to speak hindi very well.
Abdu Rozik assigned his duty
After her Abdu Rozik came and Nimrat Kair asked her what he would like to choose as his house duty.
Abdu Rozik chose Helper in Kitchen Duty.
Then she asked Abdu to choose his bedroom . Then she helped him to take his bags near his bedroom.
After that Ankit and Priyanka were the second contestants.
Priyanka Chahar and Ankit Gupta as Couples in Bigg Boss 16 Live Streaming Today's Episode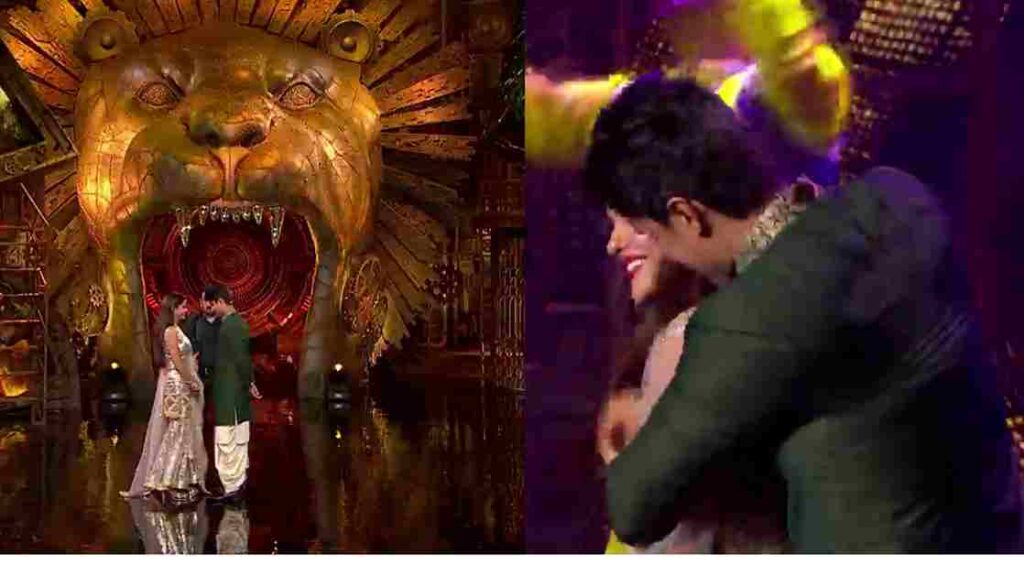 In Bigg Boss 16 1st October 2022 Episode Priyanka Chahar and Ankit Gupta gave their entry performance together on a romantic song. Then, They entered on the stage on a Bhangra song,"nach punjabad nach punjabad " to meet with salman khan.

They told that we enjoyed the success in our previous show which ran 2 years. Priyanka said she has to take some revenges in the house.
Then Salman picked out some hairs of Priyanka from Ankit's hair. Salman Khan was teasing them. Talking with Salman khan Priyanka said, it has been first time ever that a boy has become a best friend of mine.
Salman teased Priyanka and said, 'You know that a girl and a boy can never be friends.' She replied, I also used to think the same until I met him.
Salman Khan asked them about their relationship status. Priyanka wrote on a board "Best Buddies". She told Salman that their relationship is very different. For instance, Even if they are not talking to each other, they care about each other a lot.
Priyanka Ankit Love chemistry test
Salman asked Ankit you are not so vocal will you marry her. Ankot said I am not going to marry. She said Sir he is following your path.
Salman said, In past show your biology has been tested Now its time to test your chemistry and its a long journey of 105 days amid many cameras.
They were assigned Kitched Duty by Simrat Kaur and after them Archana entered Inside the house.
Archana Gautam – Model, MLA, Actress another Rakhi Sawant
Yes you read it right, she is just another Rakhi Sawant. A video of her mischief was shown to fans. After that she came on stage and had fun with Salman Khan. She told Salman that Botox is done on her hairs. Salman Khan started laughing on her funny talks.
She told that once, she had a boyfriend. But, Now she is just like Salman Khan. Salman said my deal is my deal, and you will have to deal with yours in the house.
After her, Gautam Vig was also introduced in Bigg Boss 16.
Gautam Vig in Bigg Boss 16 1st October 2022 Full Episode
Gautam Vig's video was shown. He was saying I feel in love that has connect from the heart. Gautam vig said I believe in love which connect from heart.
Rachna showed her will to cook for Gautam vig. She was flirting with him.
Both did an act in which she was cooking and Gautam hugged her husband from the behind. It was just her wish.
She was assigned Kitchen duty in cooking when they both entered the house.
Bigg Boss 16 1 October 2022 Full Episode Gori Nagori enters on stage
Famous Rajasthani Dancer Gori Nagori also came as a Bigg Boss 16 Contestant in Bigg Boss 1st October 2022 Full Episode. Gori Nagori entered on the stage with a dance performance on her famous song 'Chhamak-Chhamak DJ pe Nagore Nache re'.
Haryana – Rajasthan ki Shakira
Salman introduced her to the audience and said, Our Next contestant is a fabulous live performer, and millions of people come from very far places to watch her shows. She is originally from Rajasthan but her shows are mostly organised in Haryana.
After she came, She requested Salman to dance with her. Salman Khan also danced on the same song with her. Gori Nagori was too excited and delighted to have a dance with Salman Khan.
Salman said you are looking very good to me. She treanslated that in Rajashtani. Both had some fun on the stage, and she went inside the Bigg Boss house in Bigg Boss 16 Premiere 1st October 2022 Full Episode.
Gori Nagori he is a dancer just like ex contestants and Haryanvi Dancer Sapna Chaudhary.
Bigg Boss 16 1st October 2022 Full Episode – MC stan rapper as Contestant
So, Rapper MC stan entered in Bigg Boss 16 Premiere 1st October 2022 Full Episode. MC stan was dressed in his rapper style like junkie look. MC stan entered by singing his rap song 'Basti ka hasti'.
He told Salman that his real name is Altaf and celebrity anem is 'MC Stan' . Salman acked what is MC stan. He said it means 'Adha Shaitan and Adha Insan'. Salman said I thought something else.
MC stan told salman that he is also called Basti ka Hasti.
What is P town of MC Stan ?
Salman Khan asked MC stan what is this P-town term of yours. MC stan told him that it is Pune. He is actually from Pune. And showed him to how to do it in actions. It is just finger like stuff of Yo-Yo Honey Singh.
Salman Khan also said that I have hosted 12 Seasons of Bigg Boss, but I have never seen any contestant of this type. You are some extraordinarily different kind of contestant.
Bigg Boss scolded Nimrat on first day
Bigg Boss called her in the confession room and said I gave you to assign duties to the contestants who will enter the house. But, You were seen consulting them in assign duties. So, Keep in mind that you don make this mistake again.
Shalin Bhanot in Bigg Boss 16 1st October 2022 Episode
Shalin gave entry dance performance on song "EYY Bidda ye tera adda" song. After that, His video was shown in which he was saying, that he is bad in sports, and others. He said I will do, if one asks me to do something, very calmly. In Bigg Boss 16 1st October 2022 Full Episode, He also said I want to be next superstar like Salman Khan and I want to host this show.
Talking with Salman Khan, Shalin said I am a very simple person from Jabalpur, Madhya Pradesh. There are many rumours about me from my last show. Because I had done a powerful negative role in that TV Serial. So, people think about me the same.
Soundarya Sharma and Shiv Thakre in Bigg Boss 16
Soundarya and Shiv Thakre gave their dance perfromances on stage. Shiv thakre is Bigg Boss Marathi season 2 winner. Soundarya Sharma was previously a dentist and currently she is an actress doing TV roles.
Salman asked Shiv to give her some tips. Shiv said Sir, I left giving advice in his previous Bigg Boss season. Salman asked what type of game she will play. Shiv said she will try to use players for her business.
Both were assigned duties and beds in the house. Soundarya questioned who chose her bed and why. She was told that Nimrat has been assigned to do so by Bigg Boss.
Sumbul Toqueer Khan in Bigg Boss 16 1st October Full Episode
Most famous contestant of Bigg Boss 16 Sumbul Toqueer Khan entered on stage with her lovely dance performance in Bigg Boss 16 1 October 2022 Full Episode. She is so loved by her fans. Sumbul Toqueer Khan gave a dance performance on song ' Haye chaka chak hai tu'.
She was wearing white saree and looked stunning in it. Salman Khan also welcomed her and had a chat with her. After that she entered inside the Bigg Boss 16 house to join other contestants of the Bigg Boss 16
Salman asked her name and she replied, Chulbul and Sumbul . Salman said you are very confident. How will you play in the house. She replied sir, I am afraid of you because you scold everyone in the house.
Salman Khan said, No I am very sweet. She said When you are angry, you act like this.
Sumbul acting as Salman
She showed Salman's angry, tired and sweet version. Salman also praised her acting and said, People used to do my mimicry but this is one of the real mimicry of mine.
Sumbul is eperienced. She said I have experienced many things in life struggles, problems, etc. She told her father has taught her everything and also about Bigg Boss. So, She said when I told my father, I am doing my Bigg Boss 16. Her father wrote her a poem for her to be successful in Bigg Boss 16 house.
Her poem was read aloud and her father also came on stage. Salman said your teachings are great, and I don't think I will have to scold you. But, if this happens think it for as good.
Salman said your energy is very good, please keep it like that in Bigg Boss 16 house.
Archana was making fun of Sumbul's name
When Sumbul entered inside Bigg Boss 16 house and told her name. Archana and Shiv were making fun of her name. She also made fun of Abdu's size and asked him to stay in sight.
Manya Singh – Miss India Runner-up
Salman welcomed her and asked about how he became Miss India. She told about her struggles. She told that due to her skin tone she did not got work for two years. Manya said people told me that Miss India is nothing. After that, She said I did not give up and still working for it.
Salman asked if her father still drives Rickshaw. She replied, yes, her father never left it, and he drives in Mumbai. We were from Deoria, Uttar Pradesh.
She also trained Salman how to di ramp walk and express happi