Bigg Boss 16 18th November 2022 Full Episode
In Bigg Boss 16 18th November 2022 Full Episode, Salman scolded Sumbul Touqeer Khan for being obsessed and in love with Shalin Bhanot, Salman also schooled Shalin and MC stan who were fighting to hurt each other. Shalin asked Salman to give permission so that he can teach a lesson to MC stan. Shalin also asked Salman to either evict MC stan for hitting or he will go out of the house. Sumbul also asked Salman to evict her. Salman said both of them they are free to go and no one is stopping them.
Salman Khan will take class of all contetsants because most of them have broken rules. Wheteher it is the issue of smoking of sajid, shalin or stan's abusing, everyone bullying archana , or Tina's overacting or fight.
Bigg Boss 16 18th November Episode – #1 Salman Khan took class of Sumbul
Salman said that I have been hosting Bigg Boss for 10-11 years, I have been more than that. But till today I have not seen any such shameless girl or boy, whom we have explained to them one by one, that who is wrong for you, but she has to go there, whether I explain her or her dad. That means Salman Khan has directly targeted Sumbul, after which Sumbul's situation got worse. Salman asked Sumbul to not overreact. Sumbul started crying and said She wants to leave the show. Salman said she is free to go.
Bigg Boss 16 18th Nov 2022 Episode – #2 Salman Khan to Shalin
Furthermore, Salman took a class of Shalin Salman said Shalin, you are a very selfish boy You know that you are using Sumbul, And you got a lot of warnings from outside Whether it is me or Sumbul's dad After that also, you did not leave Sumbul.
You also know that how old are you And Sumbul is a child because of you, Her reputation will be down. You also know that your ex-wife watches the show And Sumbul's dad also.
Bigg Boss 16 18th Nov – #3 Salman asked Sumbul to not overact
Sumbul, Interrupted and said, its her fault not Shalin and she started crying and then said I want to go home. I do not want to live here anymore. After which Salman said, if this is the case, then what are you doing in the show? You are not that small that you don't understand anything. After which Salman said, you are just a contestant, leave my show, get out of my show right now if you want to. But this drama overacting will not work in front of me. After which Sumbul will cry and get into a bad state. Sumbul will cry so much after listening to Salman Khan's scolding that no one has ever cried in the history of Bigg Boss. So guys, are you excited? Did Salman correct Sumbul by scolding her?
Bigg Boss 16 18th November Episode – #4 Tina got drama queen award by Salman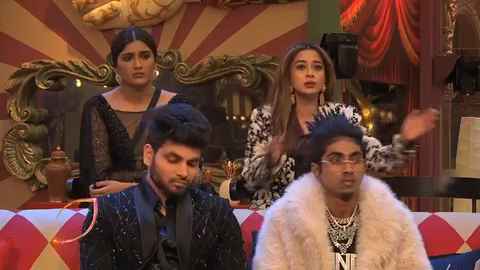 In Bigg Boss season 16 Weekend ka vaar Episode Salman's anger was exploded, Salman took class to all the contestants. But, do you know that Salman made Tina Dutta cry and Salman gave Tina Dutta the biggest award of overacting. But Tina Dutta was not happy after getting this award. Salman said to Tina, When Stan and Shaleen had a fight, You did not go near them or tried to stop. Before fight with Sumbul you were behaving like you have a fractured toe.But, Later when fight happened with Sumbul, You were seen running around the house. Is not it was drama of yours. Well, you also write your opinion in the comment section.
Bigg Boss 16 – #5 Salman asks Nimrit to aplogise to Archana
In today's episode of Weekend Kewar, we will show you that why Salman Khan will ask Nimrit and Ahluwalia to apologize to Archana. Salman asked Nimrit how can you do this? Designer clothes are brought by others also, and you threw those designer clothes like this. Salman will praise Archana for being strong while she was being targeted. He will tell Archana Gautam that you are a rider, you are a soldier, you played the game very well.