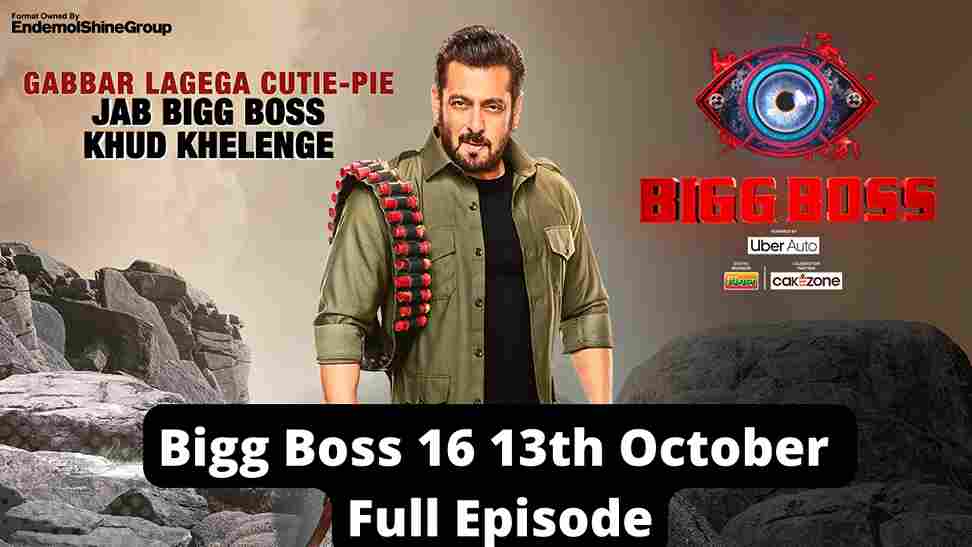 In Bigg Boss 16 13th October 2022 Full Episode Ankit exposes Tina and Shalin being fake, In task – Bigg Boss punishes Archana to stay mute and don't talk with others. She was chosen by contestants as the most irritating voice of the Bigg Boss 16 house. Funny – Bigg Boss also gave some exception to Archana that she will talk only with Shalin. Shalin and Archana both were laughing because Archana will fry him with her nonstop talks.
Bigg Boss 16 13th October 2022 Full Episode
Ankit Exposes Shalin – Tina
Bigg Boss asked Anit Gupta about his views about the contestants. He is very quiet and keeps observing. Bigg Boss asked him to give his views about the contestants.
Ankit said – Most of the people have two faces here. The truth is very strange but It's the truth.
About Tina he said, Tina is playing mindfully. She was quite in the first two days, and she stayed away from everyone. Tina kept observing, and that's why she tried to be friends with Shalin and Gautam. Tina is playing with Shalin's mind.
About Shalin- Shalin is playing very smart. He is fond of being a leader. He has anger issues but he tries to be friendly with everyone. Shalin and Tina's relationship or love angle, I genuinely think that it's a game plan. It's just happening for the game.
Gautam vs Shalin fight for Soundarya, but Why?
Firstly, Soundarya had kissed Shalin on the cheeks. Now, In today's Bigg Boss 16 13th October Episode Shalin kissed back Soundarya to make Gautam jealous, or he was just flirting with her.
Gautam got really jealous and said "That's called Cheapness". Shalin heard this and said what is this cheap cheap you are saying to me. Gautam said, I am not kissing anyone and asked Shalin to stay away from him. Shalin said she did it first. Gautam said, but now you have done it.
Soundarya also hard all these things and got angry on Gautam, she said. Listen, don't behave like we are dating for ten years. Gautam replied," No, no, no, no. I don't know this cheapness". Later on, she said, Is he my husband?
Tina also said to Shalin that If my boyfriend does it, I will have problem.
Abdu gives deep advice to Tina Datta in Bigg Boss 16 13 October Episode
Abdu asking Tina – Bro, what are you thinking?
Tina to Abdu – Thinking that how people don't understand you.
Abdu – People sometimes understand, sometimes don't understand. It's fine.
Tina – If you try to make them understand and if they still don't understand what you do.
Abdu – Decision making, Another, another, like plan A, plan B, another plan.
Tina – But if they say that you are damaging them, what will you do?
Abdu – For this you have to see who is good and who is no good. You understand who is good for long time. These 2-3 year time relations are very small. Think about the long term.
Tina – Here is everybody playing game. No one is friends- friends.
Abdu – Here in this game. It shows how to win your life, not the game. Winning your life, your own life.