WWE Upcoming Pay-per-view Events Lists 2023 – Wrestlemania 39, Royal Rumble, Elimination Chamber, Fastlane, Money in the Bank,etc.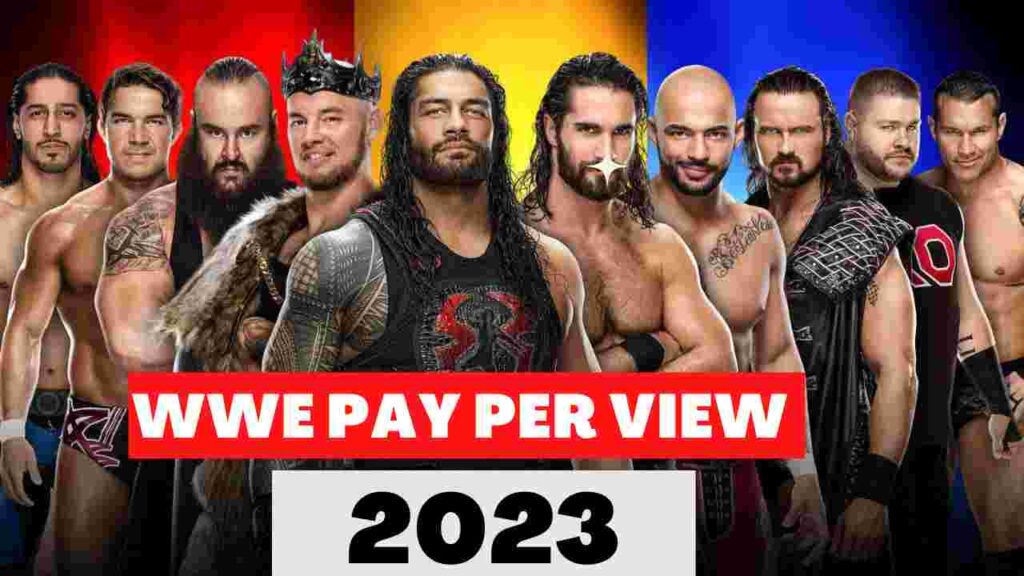 So, WWE fans, get excited! The year 2023 is set to be filled with epic events and here are just a few of the upcoming highlights:
WWE RAW 30th Anniversary (23rd January 2023)
This event will celebrate the 30th anniversary of the popular RAW TV show. Fans can expect special appearances from some of their favorite WWE legends.
WWE Royal Rumble (28th January 2023)
The Royal Rumble is a fan-favorite event, and this year promises to be just as thrilling. The 30-man Royal Rumble match will determine who will go on to main event WrestleMania.
WWE NXT Vengeance Day (4th February 2023)
This event showcases the best of NXT talent and is always full of surprises. Fans can expect intense matches and high-flying action.
WWE Elimination Chamber (18th February 2023)
This event features the Elimination Chamber match, where six Superstars battle it out inside a steel structure. The winner will earn a championship opportunity at WrestleMania.
WWE NXT RoadBlock (19th March 2023)
NXT Roadblock is an event that always delivers high-energy matches and unexpected twists. Fans can expect to see some of the hottest NXT talent on display.
WWE Hall of Fame (31st March 2023)
The WWE Hall of Fame ceremony honors some of the greatest Superstars of all time. Fans can expect emotional speeches and heartwarming moments.
WWE WrestleMania 39 (1st and 2nd April 2023)
WrestleMania is the biggest event in WWE's calendar and is sure to be a weekend full of excitement. This year's event will take place over two nights and will feature some of the biggest names in the industry.
WWE Money in the Bank 2023 (1st July 2023)
The Money in the Bank match is always full of surprises, and the winner earns a contract that allows them to challenge for a championship whenever they choose.
WWE SummerSlam 36th (29th July 2023)
SummerSlam is one of WWE's biggest events of the year and features some of the most intense matches. Fans can expect to see their favorite Superstars compete in grueling battles.
WWE Crown Jewel (4th November 2023)
This event takes place in Saudi Arabia and always features some of the biggest names in WWE. Fans can expect high-stakes matches and jaw-dropping moments.
WWE Survivor Series War Games (25th November 2023)
Survivor Series is always full of intense matches, and the War Games match is no exception. Two teams battle it out inside two rings surrounded by a steel cage in this epic event.
So mark your calendars and get ready for an action-packed year of WWE events!